According to a Medisafe survey, 42% of people tried digital health options for the first time in 2020. And, more importantly, they liked it. 91% of patients reported they would use virtual care again – preferring the rapid response rate, the ease of digital tools, and the ability to access their information whenever they wanted it.
Of course, none of that would have been possible without a transition into the Enterprise Orchestration Era where companies, departments, and individuals use technology to work in synchronicity. That is not to say that this adaptation is simple. 81% of Healthcare executives say that the pace of digital transformation is accelerating.
Now, as we begin reimagining our post-pandemic reality, the Healthcare industry must learn to master change and recognize that there is no leadership without technology leadership. –
Accenture, Digital Health Technology
In the case of Healthcare, that transformation is to the cloud. Accenture notes, 66% of Healthcare executives expect their organization will be in the cloud within the next year, 96% within three years. This move to the cloud will enable organizations to rapidly scale up their services and move away from reactionary systems.
Individuals are more connected than ever, but is the industry keeping up?
Apps, portals, and websites are becoming more and more common. A recent Deloitte report has shown that virtual doctor visits are on a steady climb – virtual visits rose from 15% to 19% in 2019 and jumped to 28% by April 2020. Despite these advances in how patients and consumers access and interact with heath care, much of the way we manage work within Healthcare and Life Sciences remains an analog process.
While we can't know how advances in drugs, wearable tech, or artificial intelligence will shape the industry, we can better control:
How teams collaborate, share data, and employ insights to launch treatments faster, and work more efficiently, ultimately improving outcomes for patients while lowering costs.
The prioritization of data-driven, results-based systems that enable consumers, practitioners, and organizations to use big data.
How data is used to improve the quality of care and communicate that value to trustees and management.
By leveraging the right technologies, Life Sciences and Healthcare organizations can improve their agility and resiliency, enabling them to respond to new advances or disruptions and orchestrate the complexities inherent to these industries.
Interoperability and getting the most from the data we have
In 2019, Health Canada spent $264b on health care. Roughly $7,000 per citizen. So, it's in the interest of organizations and taxpayers to find a means to reduce that cost while improving the overall quality of care.
That's no easy ask, however, Accenture found that Healthcare executives are shifting their views on technology from transaction to strategic. That means forecasting systems, improved security, better application launches, and real-time reporting that allows management to see the shifting fronts that impact their business.
As Deloitte explains in the graphic below, technology change is accelerating at an exponential rate.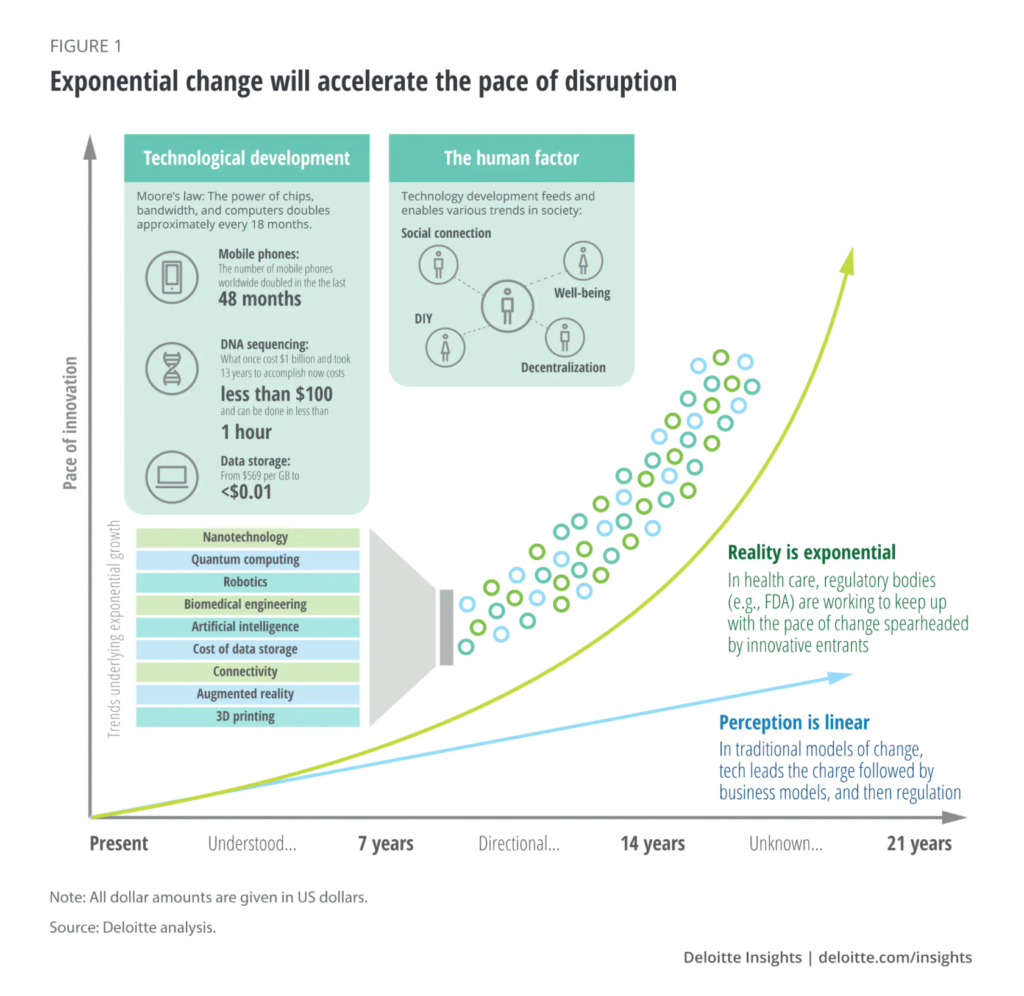 The data needed the power this exponential transformation exists, but it's under-utilized and bogged down by manual processes. However, by shifting to interconnected, tech-enabled business models, Healthcare and Life Sciences organizations could:
Eliminate silos between Healthcare organizations, community organizers and associations, and tech companies to generate data-driven insights on consumer needs, intervention plans, and social trends.
Orchestrate large, complex, multinational programs with ease, delivering additional value to patients and consumers and ensuring treatments reach the market and the patient on time.
Utilize predictive analysis to identify trends to save money and improve efficiencies.
Create a single source of truth to gain better visibility and transparency of program data to ensure crucial deadlines are met and patient care is not compromised.
The future of Healthcare and Life Sciences
COVID-19 has required incredible feats of cooperation between governments, pharmaceutical companies, and Healthcare leaders. As a result, there's increasing interest in cross-sector collaborations that will vastly improve upon data analytics. In a recent PwC survey, more than 70% of US provider and life sciences executives said they were starting to plan collaborations with other care providers and payers due to the pandemic.
As is the case with today's modern Healthcare leaders, the data, tools, and processes exist but are underutilized. To keep up with rapidly changing environments, executives will need to ensure they have a means to tap into their data, visualize and communicate value, and enable collaboration across all their teams.
Regardless of what the future may hold, it's important to realize that the amount of data regularly collected is staggering and has great potential. Were organizations more prepared to consume this data, visualise it, understand it, or analyze it through software, they would be better able to forecast trends, understand consumer behaviours, and pivot to quickly adapt to changes.
As Accenture reports, "competitive architectures will allow Healthcare organizations to build unique solutions that evolve with the organization's goals… 73% of Healthcare executives say that their technology architecture is becoming critical to the overall success of their organization."
But it can be difficult to coordinate the complex inner workings of many departments, people, and projects. Once you add in different regions, or different countries, it can become nearly impossible.
That's why a top 20 global pharmaceutical company requiring visibility into progress of their multinational launch came to us for help. We worked closely to provide a fast and painless solution to keep up with their demand for real-time reporting, KPI tracking, and need to share insights across regions. Read more about that success story and how they used Conductor™ to manage their complex launch and go to market faster with their innovative therapy.